Status: Offline
In this tech-infused world, who is steering clear of the information highway?
March 17, 2014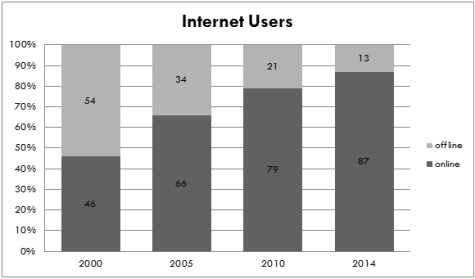 Pew Research Center reported that the amount of adults using the Internet increased to 87% in 2014, which was 2% more than in the previous year; however, that means that 13% of adults still weren't going online. This, of course, begs the question: Why not?
"It's too confusing," Violet Purdy of Ulupalakua said. "I don't know how to work that thing [a computer and the Internet]."
The 2013 report data reveal that the older the age group, the less likely the members were to use the Internet. In fact, 8% of respondents said that one reason for not getting online was that they were "too old to learn."
Some might presume that that segment of the older generation isn't getting online because they weren't exposed to this kind of technology when they were growing up, so it might be harder for them to learn the nuts and bolts.
However, that's only half the story. Most respondents said they were "just not interested." Combined with "too busy," "waste of time," and "don't need/want it," these four answers accounted for 34% of the reasons offline adults don't use the Internet.
"I don't want to deal with that," Purdy said of going on the Internet. She explained that technology had too many aspects for her to learn, and said that the Internet has "dangerous things on there."
Usability issues like "worried about privacy/spam/hackers/spyware/viruses," "too difficult or frustrating," "don't know how," and "physically unable" were nearly equal in importance to relevance issues, accounting for 32% of the answers. 
Relevance as a problem has dropped 14% since 2010; however, the problem with usability has increased by 14% in that same time.
Although unplugged adults are offline for various reasons, 33% say they have been exposed to the Internet. They either used the Internet before and stopped for unknown reasons or live with someone else who uses the Internet for them.
Home access could also be affected by seniors' ability to afford devices and the Internet for it to connect to.
In  Digital Life in 2025, Prof. Jannie Anderson, Lee Rainie and Maeve Duggan propose 15 theses about a digital future, supporting expert predictions that "the Internet will become 'like electricity' — less visible, yet more deeply embedded in people's lives for good and ill," but caution that a future so reliant on technology could further divide the have's and the have-not's.
While the reasons adults aren't using the Internet varied, the slow decrease in those who aren't online and the quickly increasing size of Generation V (people comfortable with technology) could point to a future in which 100% of Americans eventually get plugged in.
"
Experts predict the Internet will become 'like electricity' — less visible, yet more deeply embedded in people's lives for good and ill"
— Andersen, Lee and Duggan
This chapter was written by Destinee Murray.