Photo by Maile Sur
'Been around the world, [do YOU] speak the language?'
What do your acronyms say about you?
March 17, 2014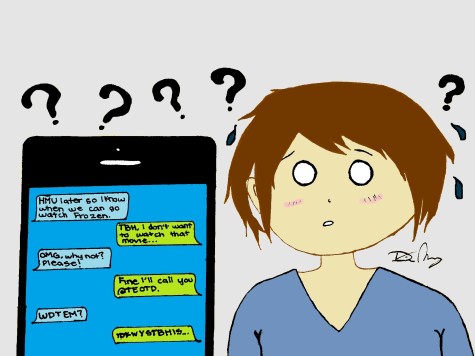 I couldn't help thinking of the Jason Derulo lyrics "been around the world, don't speak the language" when I wrote this because there's a new language around.
You all use it, and there's no sign of it dying out anytime soon.
This is the language of acronyms used in the everyday practice of texting.
Take a look at some of the commonly used ones in the lists below.
Judging by these two lists, where do you fall? Is your "text talk" in desperate need of an upgrade, or are you savvy with the latest terms? Let us know in the comments!
Old School
OMG – oh my God

LOL – laughing out loud

JK – just kidding

ASAP – as soon as possible

BTW – by the way

ILY – I love you

IDK – I don't know

GTG /G2G – I have to go/I got to go

BRB – be right back

NP – no problem

WBU – what about you?

NVM – never mind

TMI – too much information
So Cool
HMU – hit me up

IDC – I don't care

IMO – in my opinion

IRL – In real life

TBH – to be honest

SMH – shaking my head

KK – okay

LMK – let me know

JSYK – just so you know

JS – just saying
These are the most common ones we could come up with our savvy selves that aren't completely ridiculous (like WDALYC  or "who died and left you in charge?") You know, some things are just better spelled out.
Just for fun, click the PLAY button below and take our silly quiz on some of the weirder acronyms floating around.
[twochop-public idtype="1″ id="16044824272445289102″]
This chapter was written by Jaylin Kekiwi.