After almost two years of preparation, senior Kelcey Lorenzo won second place in a national scholastic video production convention. The Student Television Network Convention was held in Los Angeles, Calif., March 7-10.
Lorenzo competed with 60 other students from across the country in the Tell the Story Event. In this event students were given footage taken by one of the convention staff. For the competition, students used the footage to put together a news story.
A few days after the competition ended, the convention released the standings for each competition, and Lorenzo learned for the first time that she had received second in the Tell the Story Event.
"At first I didn't believe it because I really thought that what I turned in wasn't the best that I could do. But after the shock, I was really happy, and so were my parents," she said.
Lorenzo and I, both seniors, went to the competition with Digital Video Production teacher, Mr. Jay Paa.
"Although they both didn't quite know what to expect going into the competition, their understanding of telling a good story and raw talent in editing video footage on the fly was more than enough to overcome their lack of experience," Mr. Paa said.
During the convention, students listened to different speakers involving the do's and don'ts of television broadcasting.
One speaker, Les Rose, stood out to Lorenzo. Rose is a photojournalist/field producer at CBS News. He has worked with Byron Pitts, Katie Couric, Ben Tracy, John Blackstone, and Bill Whitaker.
In another session, students learned about the importance of lighting and how to make the most out of the lights you have.
Another notable speaker was Steve Stockman, author of How to Shoot a Video that Doesn't Suck and producer, writer and director of over 200 commercials as well as Two Weeks, starring Sally Field.
On Thursday, the convention started the Sweet 16. Students from each school worked together for 16 hours to create a 16-minute video.  Maui High School's video production class participated in this competition.
"The Sweet 16 [Broadcast], it felt like our everyday practice that we had, so it wasn't that bad for us, but at the same time it was stressful, but we actually got through it. It wasn't as intense as we thought it would be," said MHS senior Rachael Borreta.
Outside of the sessions, the convention offered many things for students to do.
They put on a carnival on Friday night. There students had their palms read, got henna tattoos and listened to Bright Matter, a local Band.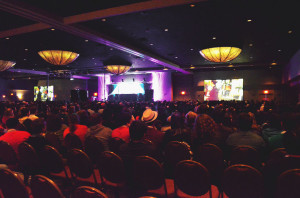 Before coming to the STN's, students could sign up to be a part of the talent show, and on Saturday night after all competitions and sessions were over, students lined up to watch the first annual STN Talent Show and Music Video Showcase. Students ranging from Coral Springs, Fla. to Honolulu, Hawaiʻi, displayed their talents, many of them musical.
On the next day, students said their farewells at the closing ceremony, where students were recognized for their accomplishments.
In order to make an early flight, both the Maui High and the Kamehameha Maui teams missed the announcements of the winners, so they had to wait for the final results to appear online a few days later.