My Two Cents: What Makes You Beautiful?
Join the campaign! Email a pic of your beautiful person to me!
Once a teenage girl looks into a mirror, she almost immediately puts herself under a microscope and picks out every single imperfection that she feels she may have.
It doesn't matter how attractive she seems to others; if a girl feels she doesn't match a certain standard of beauty, she thinks there is something "wrong" with her.
MORE: See how women's self-perceptions differ from reality in Dove's Real Beauty sketch challenge.
Films such as Mean Girls (2004) perpetuate this misconception. In one scene, the girls known as the Plastics stand around a mirror and criticize their bodies, causing the main character, Cady Heron, to say, "Apparently, there are a lot of things that can be wrong with your body."
"
Apparently, there are a lot of things that can be wrong with your body."
— - Cady Heron in Mean Girls
What is it that makes these girls have so many insecurities? It is easy – they constantly compare themselves to others around them. The media contributes to this delusion.
Images of idealistic beauty have been historically shown in works of art and literature. The modern day equivalent is something called the "mass media."
The average American teenager watches nearly 4 hours of television each day, or 25 hours a week. Even though it may seem harmless, mass media could (and usually does) negatively impact the audiences that they appeal to.
For instance, the characters portrayed in television and film are thinner than the average American woman.
Business Insider reports that the average American woman, 67% of all women, is a size 14 or larger. By contrast, only a tiny percentage of the women shown in film and television (less than 10%) are legitimately overweight.
In addition to the ideal of how a girl should look, there are also standards as to how she should act. Take Sandy from the movie Grease, for example. 
She only landed the "stud" of the movie, Danny Zuko, after she had a complete makeover – right down to her attitude. In the matter of one scene, she changed completely from the shy, sweet girl she was portrayed as for most of the movie to a confident, sultry sex symbol for the last two musical numbers of the film.
Grease is now considered a classic and a favorite movie to many, but that end scene teaches girls that they will not be happy unless they change themselves to fit someone else's standards.
Magazines have been widely criticized for promoting dangerously thin body images.
Girls generally look to magazines as a source of tips on beauty, clothing and fitness, but research has proven that unhealthy standards are promoted by magazines, especially ones that have target audiences of young women.
J. Kevin Thompson of the University of South Florida and Leslie J. Heinberg of Johns Hopkins University quoted a 1991 Nichter and Nichter study in their report The Media's Influence on Body Image Distortion and Eating Disorders.
They stated that, according to what the magazines were showing then, the typical teenage girl would have idealistically been a height of approximately 5 feet 7 inches, weigh no more than one hundred pounds, and fit into size 5 clothing.
Look around. This standard has not changed much, and it is just as dangerous of a standard now as it was then. Those body mass proportions would describe someone younger than the age of 16.
Advertisements are another of the influential media. Advertisements, especially ones that promote make-up or fashion, often attempt to over-dramatize beauty.
Buyers will base their reasoning on how the product may look on the model. Women and girls forget that professional make-up artists and Photoshop experts are there to make the products look better than they would in reality.
Ultimately, when young women realize the product does not make them look like models, they believe it is because they don't look good enough, and their self-esteem takes a dive.
Mass media is widely consumed, and the producers could use their power for good, rather than inadvertent or carefully crafted evil.
People who work in this field should acknowledge that they need to set realistic standards of beauty and fitness.
——————————————————————————————————————————————————————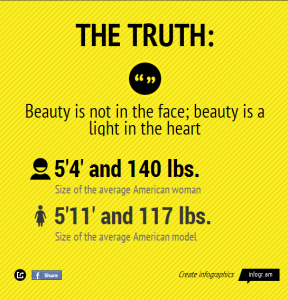 This week, September 16-20, marks the start of my campaign at Kamehameha Schools Maui — the "What Makes You Beautiful Campaign."
The point is to promote self-confidence and remind everyone that they are all beautiful just the way they are.
To prove it, I'd like everyone to take a picture of a favorite someone. Email the picture to me at [email protected] with 1-2 sentences about what makes that person beautiful.
If you can't take your own picture, and it's someone on campus, just send me the person's name and your sentences, and I'll try to take the picture for you.
I'll wrap up the week on Friday with a display of all the entrants and a raffle drawing for Amazon.com gift cards for you and your beautiful person.
Leave a Comment