Piʻilani solar panels to bring shade, cost savings, warm water
PUKALANI – If you've been around the Pi'ilani Aquatic Center recently, chances are that you've seen (or heard)  the construction going on.
What's being installed? Solar panels.
Installation for these panels at the high school pool began about a month ago, starting with the foundation work. Most of the foundation work is in place, and the next step is to install steel for the pillars to hold up the roof structure. The pillars will arrive in three or four weeks, according to Mr. Carl Alexander, Head of Operations.
"[Solar panels] were a collective idea from monitoring that we do on a daily basis," Mr. Alexander said. "We currently heat the pool for the winter months and we use propane with a regular boiler for that. It's expensive."
In fact, Mr. Alexander said that it costs $15,000-20,000 a month to heat the pool.
Haleakalā Solar is the provider of the panels.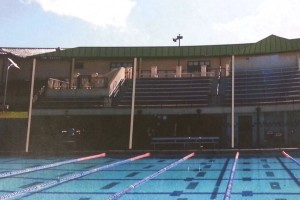 Solar panels aren't a new concept to the school. They are already being used to power streetlights on the elementary, middle school, and high school campuses.
There were several other options for heating, but solar panels proved to be the most logical due to their low-impact on the environment and long-term cost savings.
This project has been "in the talks" for a while, but it was all an issue of prioritization and timing, Mr. Alexander said.
These panels will use the sun's heat to generate and heat the pool water in a separate tank.
"Basically, these panels are the 'Hulk version' of the ones that you might have at your house," according to Mr. Alexander.
The school is expecting to install the panels primarily during fall break, though there will be a period of eight days directly before then during which the pool will not be available for use.
"With all the installation and steel girders and equipment around, it's not safe for the students," Mr. Alexander said about the plan to finish construction during the break.
Swimmers and others who use the pool are excited for this new development.
"I'm super excited for warm water during practice," senior Leimana Hasset said. Hasset participates in both water polo and swimming.
The entire project is expected to be finished on October 21, before the water sports start up for the year.