Caffeinated drinks linked to teen ER visits
Emergency room visits involving energy drinks more than doubled  between 2007 and 2011 according to the Substance Abuse and Mental Health Services Administration. In the Drug Abuse Warning Network Report, SAMHSA reported that visits went from 10,068 in 2007 to 20,783 in 2011.
The DAWN Report
Some of the patients who reported consuming energy drinks before going to the emergency room, eventually died. In their January The Dawn Report, SAMHSA warns against the use of energy drinks by adolescents.
"The occurrence of energy drink-related ED visits among adolescents and young adults shows that these vulnerable populations experience negative health events after consuming energy drinks," the report said.
Last month, the report on deaths and rise in emergency room visits prompted Alderman Ed Burke of Chicago to propose a ban on the sale of large size energy drinks to consumers of all ages.
At Home
At Kamehameha Schools Maui's high school campus, the recycling bins outside classrooms always have at least five to ten highly caffeinated energy drinks in them. Students casually stroll the hallways with an energy drink or Starbucks cup in their hands. Some students arrive at school, step off the bus and immediately pop open a bubbly can of their favorite caffeinated drink.
Like teens everywhere, Maui teens have fallen prey to marketing in the media and impulse buying strategies in stores and have become accustomed to purchasing and drinking highly caffeinated beverages on a daily basis. KS Maui students who reported drinking energy drinks on a recent Ka Leo o Nā Koa survey said that they usually drink one or two 16-ounce servings per day.
No student reported over-consumption of caffeinated beverages, but even low to moderate consumption can come with side effects that range from minor to serious.
The Side Effects
One danger is reliance on caffeine to stay alert, but despite the energizing effects of caffeine, awake doesn't equal fully functioning.
According to a November 2012 study by the Food and Drug Administration, "It is important for consumers to realize that, while stimulants such as caffeine may make one feel more alert and awake, judgment and reaction time can still be impaired by insufficient rest or sleep."
Teens whose caffeine intake would be considered in the safe range can still have a higher chance of experiencing side effects, such as feeling jittery or shaky, loss of sleep, increased heart rate, raised blood pressure, dizziness, headaches, dehydration, anxiety and more.
"My heartbeat gets faster when I drink it [energy drinks], and yeah, some anxiety occurs," senior Pololū Nakanelua said.
Some instances have possibly turned deadly. The FDA stated that energy drinks may have played a role in 16 deaths from Jan. 1, 2004 to Oct. 23, 2012.
The FDA announced that these results do not conclude that the energy drink products actually caused the deaths, since the individuals involved could have been suffering from other medical conditions. In many but not all of the deaths, over-consumption or use of other substances, like narcotics, were involved.
According to a Jan. 18, 2013, press release from energy drink maker Monster Beverage Corporation, "The recent Drug Abuse Warning Network report on so-called energy drink related emergency department visits is highly misleading and does not support any conclusion that energy drinks are unsafe for consumers."
Taking moderate amounts of caffeine is suggested by the Food and Drug Administration. One to two hundred milligrams of caffeine each day is a reasonable amount, but this number varies depending on weight, gender and health conditions.
Experts say that consuming more than six hundred milligrams of caffeine per day is too much and carries serious risks.
It's All About the Taste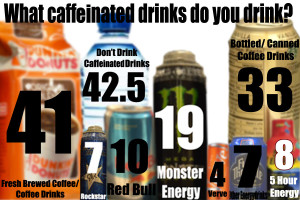 Within one hour of consuming a caffeinated drink, the caffeine kicks in and stays in the blood for about four to six hours.
In the January 2013 Ka Leo o Nā Koa survey of 100 Kamehameha Maui high school students, 57 said that they drink caffeinated beverages.
A little more than 80% of those agreed that they prefer the taste above all other reasons for drinking caffeinated drinks.
This makes sense since these highly caffeinated drinks contain large amounts of sugar. In fact, on most energy drink labels, like Rockstar, Red Bull and Monster, sugar is the second-most used ingredient, coming in just behind water. Some energy drinks even surpass the amount of sugar in sodas like Mountain Dew, Dr. Pepper and Coca-Cola.
"It started in 7th grade when I tried one just to try it. I ended up liking them too much and drank them like sodas," senior Dane Ventura said. He is posed as a caffeine-crazed teenager in the lead photo for this story.
Ventura said he purchases three to six Monster energy drinks per week, mostly for the taste of the drink and how it makes him feel.
The Buzz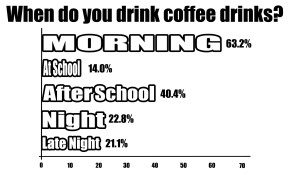 About 63% of KSM caffeinated beverage drinkers said that they prefer to drink them in the morning before school starts. This could be because of the lack of sleep among teenagers.
One-third of respondents say they drink caffeine because "they have trouble waking up," and more than half use them because they "feel tired." Other popular reasons reported were the need to stay up late and to help with getting through practice, games, and rehearsals.
According to the National Sleep Foundation, "Teens need about 9.25 hours of sleep each night to function best (for some, 8.5 hours is enough)."
Teenagers suffering from lack of sleep might then turn to caffeinated drinks to get them through the day.
Close to 40% said that they drink highly caffeinated beverages after school or in the late afternoon to get them through the afternoon lull.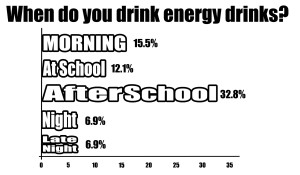 "There seems to be a natural rhythm or set clock in our bodies, so many people tend to feel a little sleepy around 2 or 3 in the afternoon," said Lona Sandon, assistant professor of clinical nutrition at the University of Texas Southwestern Medical Center.
The feeling of sleepiness in the afternoon may also be attributed to other underlying causes such as eating habits or lack of sleep.
The New Wave?
Some energy drink businesses have claimed to develop products that are healthy alternatives to highly caffeinated beverages and use all-natural ingredients.
According to the Vemma Nutrition Company, "Vemma ensures a solid nutritional foundation that will dramatically help you feel, look and be healthier."
Their natural energy drink, Verve, has been the buzz around the KSM high school campus recently, with several students signing on with the company.
"It [Verve] is a healthy alternative besides coffee, soda and any other energy drink…it has all of the basic vitamins and minerals," said Aydan Lopes, senior and independent brand partner of Verve energy drink.
Vemma has stated on their Web site that Verve has a combination of natural caffeine and antioxidant Vemma formula, making the beverage beneficial for consumers. These statements have not been evaluated by the FDA.
One controversial ingredient commonly used in energy drinks like Red Bull and also contained in Verve is taurine. This amino acid that changes the way a body metabolizes food and drink had been banned in France since 1996. Although France lifted the ban in 2012, taurine-containing drinks like Red Bull must come with a label that warns consumers to consume moderately. Denmark and Norway do not authorize the sale of any Red Bull energy drink products.
Compare the caffeine and sugar amounts of some popular caffeinated drinks in the table below:
[ultimatetables 1 /]
*240 milligrams of caffeine has an equivalence to seven cups of coffee
Loading ...